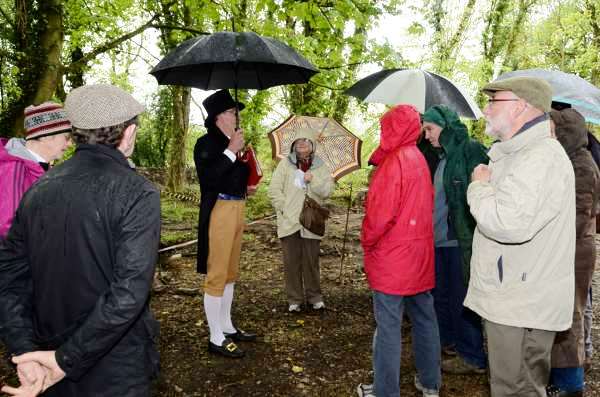 On Sunday, thirty seven intrepid souls, of the Marple Local History Society, braved the delightful spring weather, 2013 style, to partake in a bespoke tour of Mellor Mill. Splitting into three parties, led by Ann Hearle, Don Reid and Samuel Oldknow (me!), they were taken round the ever increasing revelations of the site and learned of its history. These successful tours were finished off with a welcome tea and cake at the Roman Lakes Cafe, and an opportunity to handle some of the discovered artefacts. Ann and I had barely dried out from taking 20 members of The Hazel Grove Local History Society around the site two days before when it also rained throughout the tour!
Bob
Photo: (Copyright) Arthur Procter
Samuel Oldknow has filed a report, reviewing the Society members visit to Mellor Mill, on the Marple Local History Society website, here is a taster…..
From our eighteenth century correspondent
We came up with a long narrow building, six storeys high. By making it only 33 feet wide and 400 feet long, we could get as much light as possible into each floor and we needed that because of the thin cotton thread we were working with. My masterstroke was to have the water wheel in the centre of the building and the water going straight through, from the millpond, through the breast shot wheel then into the Goyt.
To read more, go here….Samuel Oldknow's report