Welcome to the web site of Mellor Archaeological Trust
Diary Date : Fact & Fun Day, Roman Lakes, Sunday, September 8th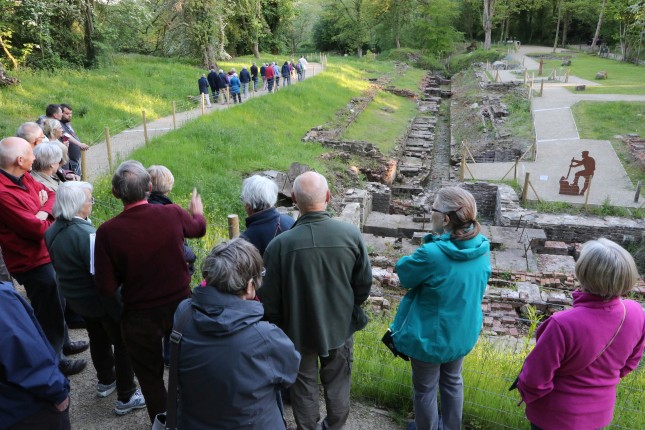 (Photo by David Burridge)
A group of 41 members and visitors of MLHS visited the mill on May 20th 2019. Bob Humphrey Taylor (Chairman of Mellor Archaeological Trust and site manager) and Judith Wilshaw (site volunteer) were on hand to take people round the site and point out significant features, while John Glithero (industrial archaeologist extraordinaire) explained the power systems of the mill, aided by his wonderful animated Meccano model. Read all of Judith Wilshaw's report here
Mellor Mill: Mowing - Painting - Strimming - Weeding aka (Mill TLC)

"They think it's all over, some people are…...Well it is now"
Not so! Mellor mill built at the cusp of the industrial revolution enters into another period of transition, another cusp. Following the culmination of excavations and landscaping, another phase of mill's life is to begin. Becoming the central attraction in the Mellor Mill Heritage Park, a role that will be played over the next twenty five years or so that lie ahead, this will be the legacy stage of the Heritage Lottery Fund Award.
The first tentative steps into this new era have included a couple recent 'parties'. One devoted to a initial camouflage painting of the site cabins (work in progress) the other weeding and grass cutting. A task that in summer is akin to Forth Bridge painting, as all gardeners know only to well.
Photos: Bob Humphrey-Taylor and Arthur Procter
Where is Mellor?
Now on the edge of Stockport in Greater Manchester, Mellor's location is historically important. 
On the south-west and north-west, it is bordered by the two great rivers, Goyt and Etherow, which drain the SW Peak District and join to form the Mersey at the lowest point of Mellor.
On the east, a high ridge overlooks a valley, behind which is Kinder Scout. Three spurs, separated by brooks, project west from the ridge.