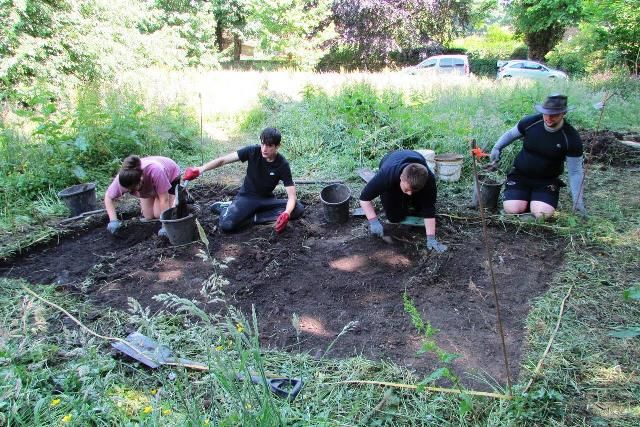 Monday 25th
We are back working on the Old Vicarage site, excavating two test pits in the triangular field. Students from Marple College, led by an Archaeologist from Salford University, are spending their 'Work Experience' week with Mellor Archaeological Trust. The dig is taking place from 25th to 29th June and members of the public are welcome to visit the site which is situated at the top of Church Road in Mellor. The first day has seen the students removing the turf from the area and today they should get down to the interesting layers below which tell the story of occupation of the hilltop when the inhabitants lived in Roundhouses. There is a replica Roundhouse at the site which, although only 1/3rd actual size gives a real feel for how life would have been for our Iron Age ancestors.
For the full story of the multi-period Old Vicarage site go to www.mellorarchaeology-2000-2010.org.uk
There was a drought in 1995. When Ann Hearle looked over the north wall of the Old Vicarage drive, she saw a green line arcing over the field. On either side the grass was parched. Ann took some photos, thinking that the line might come from the foundations of medieval buildings. How wrong she was! In 1997, Peter Arrowsmith was writing a history of Stockport. Ann showed Peter the photos when he came to ask about the history of the district. He walked round and said "This is old!". That is how it all began. Next year, Graham Eyre-Morgan from the University of Manchester Archaeology Unit (UMAU) brought out three students. They carried out a resistivity survey and then dug trial trenches in the garden. One evening, Graham came out after the students had left and trowelled a bit further. He found the edges of a ditch cut into the rock. As the students dug deeper in the following days, they found Romano-British and Iron Age artefacts.