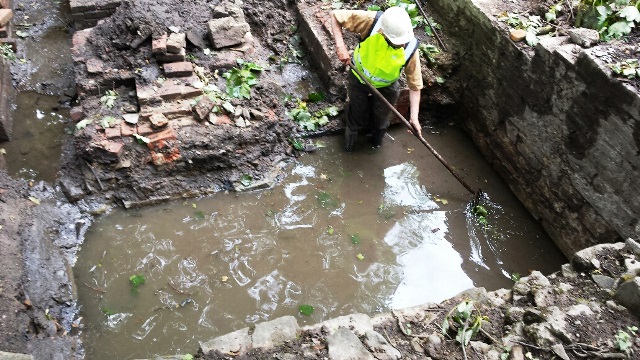 John Glithero sees to the drain in the engine house
Mellor Mill's First Festival: On Sunday 19th July, Mellor Mill celebrated the Council for British Archaeology's Festival of Archaeology. Despite a damp start to the day, local people and visitors from further afield gathered to take part in this Heritage Lottery Funded celebration of all things archaeology. That's Manchester TV even popped down to do some filming for their news show! (video at end of article)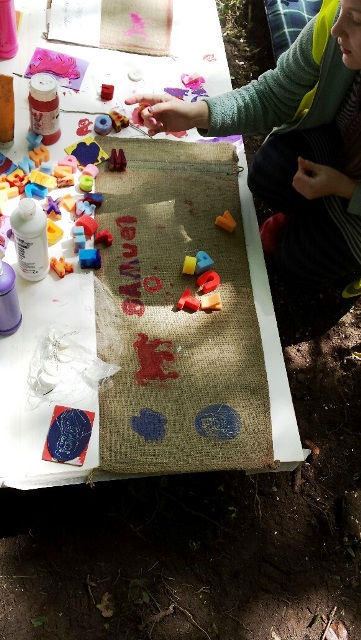 Water into the wheel pit, at the double! 125 people took part in the day, with activities ranging from fascinating Guided Tours of the excavations of the Mill to taking part in the excavations themselves. Volunteer archaeologists passed on their skills and enjoyed seeing their trainees' confidence flourish. Stockport Metal detectorists made some exciting discoveries on the day, including what looked like an old metal button.
For younger budding archaeologists, local builder Steve Thompson built a new sandpit in which children enjoyed digging for finds. The archaeological highlight of the day was when, after a year of frustrating flooding in our engine house, which was preventing progress, we finally found the drain and successfully unblocked it. Watching the water gush out and into the wheel pit, and seeing the level slowly fall in the engine house was a big moment for us all. Who'd have thought that a drain unblocking could be so emotional!
Bob's Diary piece on this Eureka moment
Telling the story: Local artist Natasha Lolljee helped visitors to create interpretation for the mill with a twist. Using hand cut printing blocks showing images representing the themes of the site, visitors chose colourful paints to print pictures and words onto sandbags! The sandbags will be filled and installed on site, helping future visitors to understand what they can see, and helping to tell the stories of the mill and its workers.
The Future: We need volunteers to help us turn this archaeological site into an exciting heritage park, so if you have skills we could use, in excavating, digging, landscaping or weeding, then please get in touch! Contact Pamela Pearson on This email address is being protected from spambots. You need JavaScript enabled to view it. or 07825 044 379.
Report : Pamela Pearson, Learning and Interpretation Officer, Revealing Oldknow's Legacy, Photos : Arthur Procter