Work begins in earnest !
The corner is being lifted, the legacy of Samuel Oldknow is being revealed, the hidden work and skills of the 18th and 19th, revealed for the 21st century.
The New Year brought the visit of a big digger to the mill site. Bob Humphrey-Taylor, Mill Site Director, and Rachel Miller , Project Archaeologist, set to clear the spoil heaps that had grown around the site from the mainly hand excavations over the past two years, since investigation began in earnest. Fantastic progress was made. As well as landscaping, some of the 1000 tonnes of earth was moved to create a flat landscape for the site cabins.
Bob and Rachel have made a fenced path around the edges of the former mill so that people can safely see all the exciting discoveries. Paths have been also been created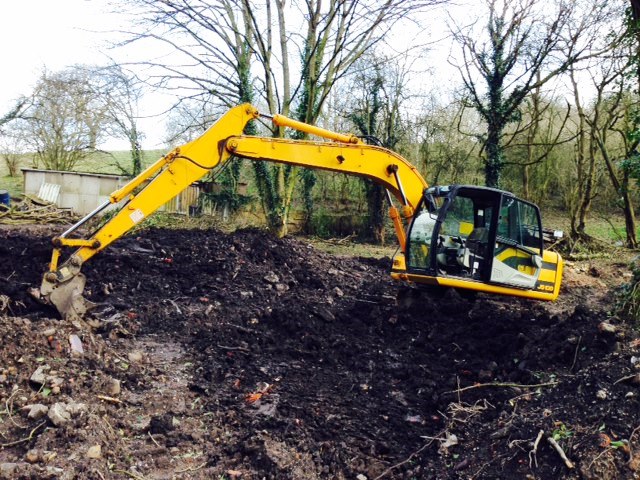 throughout the site so that volunteers can make their way around more easily. A channel was dug from the Engine House towards the power house of the Wellington Wheelpit; during this work a possible hold down bolt for a drive shaft bearing was unearthed. This has raised the conjecture that rather than replacing the water power, steam power was used to augment the old style of power production.
Learn more here…..Canal & River Trust Oldknow Legacy Blog
A Revealing Oldknow's Legacy: Community Dig is being held in early April, more details... Dig the Mill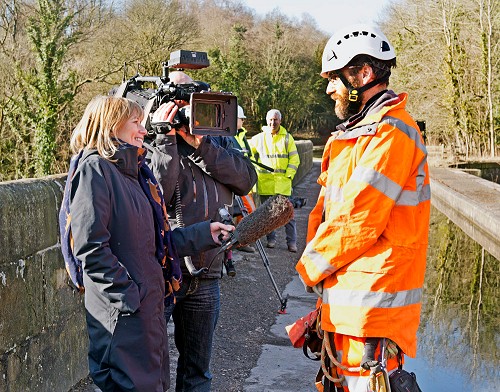 Marple Aqueduct is showing its best face for many a year. Abseiling engineers have been inspecting and repairing this three arched, and 315ft long, Grade 1 structure which rises 90ft above the river bed. This is the highest canal aqueduct in England and the highest masonry-arch aqueduct in Britain. A footpath leading below the aqueduct, on the Romiley side, has been upgraded, and a viewing area made. With tree clearance, under a forestry management scheme, the full face of the magnificent construction can now be seen, a testament to the skills of the nineteenth century.
Links...Manchester Evening News Report....BBC TV Report
Martin Cruickshank, March 2015
Photographs, courtesy Arthur M. Procter & David Burridge