We are back down at Mellor Mill, each weekend, from Saturday 12th January. The main focus of the work is now shifting to identifying the exact locations of the ancillary buildings down by the river to enable us to complete an accurate survey of the entire site in readiness for our stage two Heritage Lottery Fund application late Spring. The timescale for this work to be completed is relatively short and so we could do with lots of help.  Do please consider coming down as often as possible to get this important stage completed.
Looking forward to seeing you all again.
I include a plan of where we are going to put in some test trenches over the next few weeks.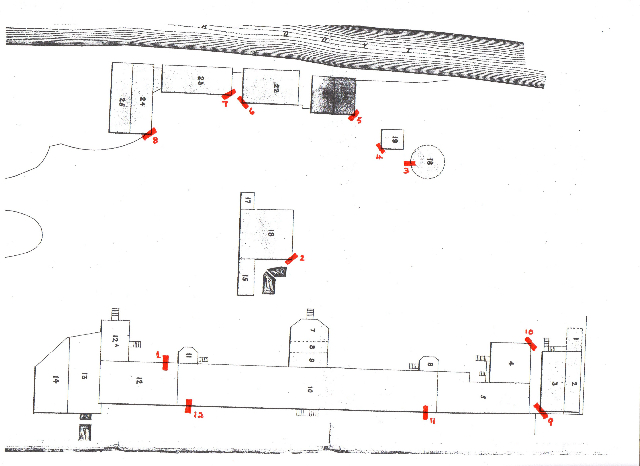 PROPOSED TEST TRENCHES AREAS 'A' & 'B'        
1. Mill front wall adjacent to room 12
2. NE corner of Waterloo Wheel House
3. Southern edge of Gasometer
4. SE corner of Retort House
5. NE corner of Warehouse
6. SE corner of Mechanics Shop
7. NE corner of Workshop
8. NE corner of Warehouse
9. SE corner of Engine House
10. NW corner of Cotton Rooms
11. E of Mill rear main wall
12. E of Mill rear main wall