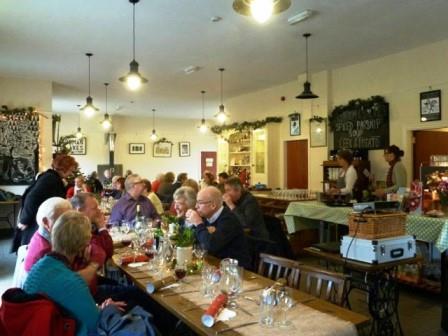 Christmas was approaching fast, but cars took their time approaching Roman Lakes tiptoeing along the bridleway that leads to the venue for the third annual Christmas 'Do' of the Trust, the Roman Lakes Café. The coaxing done by email and a website note had produced the more than three dozen diners. Pushing open the door to the warmth of the cafe, after being ticked off the list of atendees, many headed to the wood burning stove, to warm themselves to the core.
At Christmas 1892, Edwin Furness, who had been manager of the mill, sat in the parlour of his home at Strawberry Hill, with his brother, who was Chairman of Ardwick AFC, which had that year become a founder member of the Football League and two years later would become Manchester City.
"What shall I do now? We'll soon have cleared up what we can at the mill. Mr Arkwright won't want me after Easter."

"I've been thinking about that. You know, pleasure parks are becoming popular. Couldn't you have one here?"

"Well, maybe! I suppose we could use the millponds for boating."

"You need a good name. Why not call them the Roman Lakes. People aren't to know that they weren't dug by the Romans."
"I think Arkwright would lease me the land. It's not worth much."
So the Roman Lakes Leisure Park was born and the old packhorse bridge across the Goyt became Edwardian Ladies test load the Roman Bridge the Roman Bridge.
Mulled wine on arrival set the mood for the day, a convivial lunch, food of excellent quality, delivered speedily to the paper hatted diners. Brenda showed her prowess in the raffle stakes, as £40 was charmed out of the diners for those little green tickets, tickets with that promise of success. The hubbub of conversation grew, plans for Christmas, the advantage of forward planning, that becomes a pitfall after that unexpected phone call.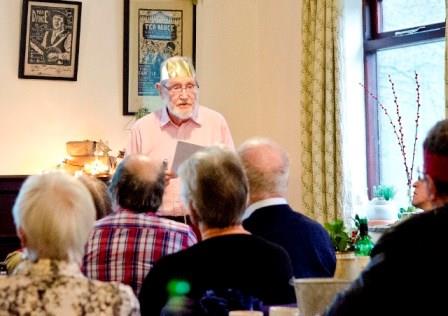 Replete after two courses, the party settled back in their chairs, as the projector and screen were brought out, laptop connected, technical hiccup overcome. Just when you thought one presentation would come along, along came three, driven by John & Ann Hearle and Bob Humphrey-Taylor in the guise of Samuel Oldknow.
The text of John's talk on website
Warm applause came at the end of the presentations, hard work completed by the hard working drivers of the Oldknow Project.
Ann gave a vote of thanks to the crew, both back of house and front, that had ensured the smooth running of the event, and had provided such good, wholesome food. The troop came out to well-deserved applause. Isn't a pity that 'give three cheers' has disappeared off the landscape, the Roman Lakes staff deserved four!
Martin Cruickshank January 2014
Photos: Arthur Procter & Chris Walters