Chinese TV Film Crew at Mellor Mill

Chinese TV Film Crew at Mellor Mill
China's National TV is making a ten-episode documentary on INNOVATION. One programme will cover the Industrial Revolution in England, particularly the textile inventions. The film-makers approached the Textile Institute, who contacted me, as a former Chairman of Council, to be interviewed. The date clashed with Oldknow Legacy Project meetings, so I could not go. Instead, I suggested that an important place to film would be the site of the largest mill in the world when it was built in 1790-92.
On Thursday, November 20, the film crew turned up at the Old Vicarage. Looking over to Mill Brow, I described the change from hand spinning and weaving to the small mills on the Mill and Mellor brooks. Then, after stopping at Red Row to show worker's housing, we went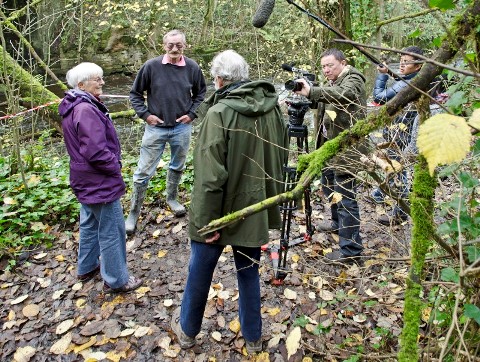 down to the River Goyt, where Bob, Ann and I told them about the building of Mellor Mill. Back at the Old Vicarage, Ann told the story of Samuel Oldknow. They were particularly interested in the link between Oldknow and Sir Richard Arkwright. As we explained how Oldknow borrowed money for capital expenditure, the interviewer made the interesting comment that the Arkwrights, particularly Richard Junior, were acting as the venture capitalists of the day.
There were fascinating aspects of being filmed, such as walking along with the camera following my feet and legs, as one often sees on TV as background images to the presenter's talk. Down at the mill, it was difficult to pull the cameraman away from filming the flowing river.
Altogether an interesting day!
John Hearle, Chairman, Mellor Archaeological Trust