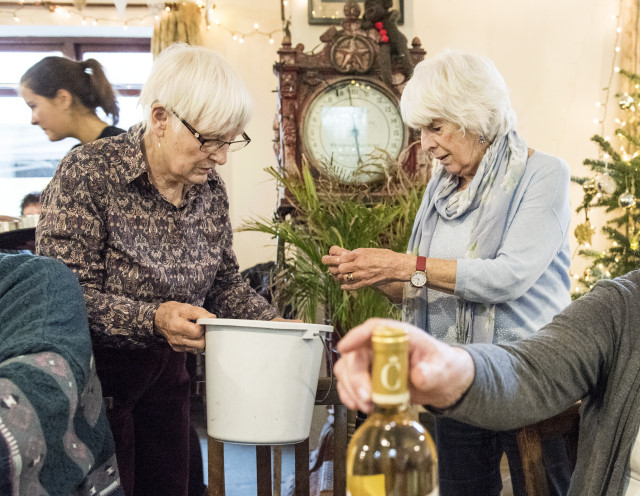 Once again, for the Trust's Christmas meal, the Sewart family, along with their staff at the Roman Lakes came up trumps, on Sunday 3rd December. They enabled the 75 or so of Trust Friends, with their partners and friends, to luxuriate in an afternoon of fine food and the warmth of very special hospitality.
(Left: Ann, Anne and a raffle)
Trooping in, being ticked off the list of 'covers', buying raffle tickets, we sat at the seasonally decorated tables. But before that, a chance to enjoy mood setting mulled wine, served on arrival, to view the raffle table groaning under the weight of prizes, and the warmth of the wood burning stove. Eventually sitting, before us lay the forks, knives, glasses and crackers ready for use. The hubbub of conversation grew, plans for Christmas extolled, the advantage of forward planning discussed, and the consequences of that unexpected Christmas Eve phone call remembered.
Brimming after two sumptuous courses, the party settled back in their chairs. The time had arrived for the afternoon's entertainment in the capable hand of the Barleys. First Meg Barley gave us a solo unaccompanied rendition of 'A Little Old Schoolhose Down a Counrty Lane', made famous by Randolph Sutton. Follow that! And Mike did, in spades. Regaling us with the humorous side of Christmas celebrations at primary schools, a distant, very distant memory for those listening, but warm stories to finish the afternoon.
Sincere thanks to Meg and Mike, and again to both the Sewart family and their staff at the Roman Lakes, a December Sunday afternoon to cherish in memory.
Photos: Arthur Procter
Text: Martin Cruickshank, January 2018