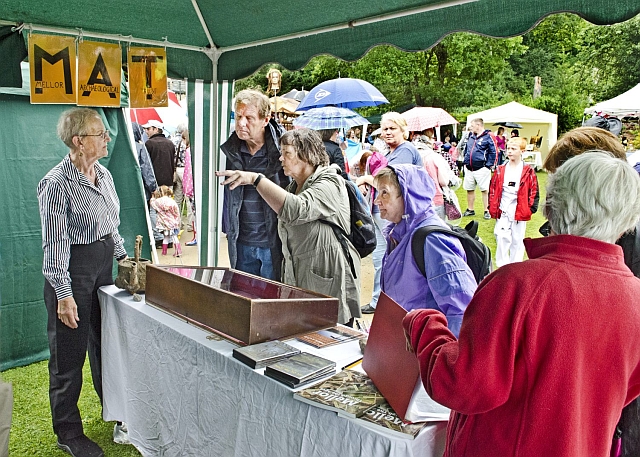 The summer of 2013, having been faithful to title for three weeks, began to become grumpy over the week-end. Undeterred by the promise and the eventual arrival of rain, an hors d'oeuvre, at midday, with the main cou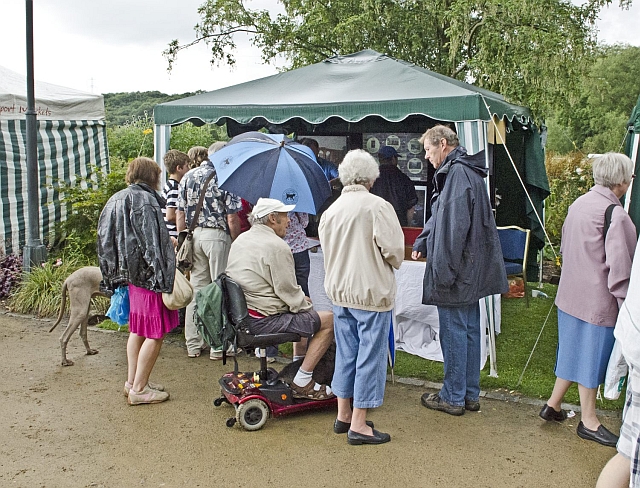 rse three hours later, people arrived to enjoy the 17th annual Chadkirk Festival. The lawned area was populated by birds of prey, Morris dancers, balloon artistry and amongst the stalls of home made goods and crafts, the Trust, hosting a stall. Many people stopped, few 'walked on by'; perhaps it was the magnetic attraction of the clog iron in the display cabinet of finds, or the 'Revealing Oldknow's Legacy' display at the back, or even, perhaps, the winning smiles of those 'manning' the stall. All under the gazebo, that became a priceless shelter, when the rains came, a downpour. Great interest was shown in the Lottery application and the Samuel Oldknow Heritage Day on September 8th. Of note, walking round the site on the day, were both the new East window in the Chapel and the well dressing.
A big thank you from Ann, for all those that helped at the event, a good day!
All Photos: Arthur Procter, apart from Well picture, sourced from Friends of Chadkirk