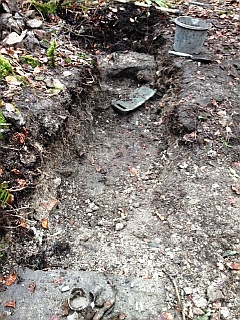 Passageway
We have finally identified the passageway between the Saw Pit and the Mechanic's Shop. It is about 8 feet wide.
This is the last trial trench we will need down at the ancillary buildings. Next is Mellor Lodge to complete all the site trenches.
Picture: The trench is across the passageway. In the foreground is the corner of the Mechanic's shop and across the trench is the corner of the saw pit
 
Clay Pipes
I was chatting to Rachel yesterday about there being a good chance of finding pieces of clay pipe around the ancillary buildings. And, here we are today with two pieces of stem already. It would be good to find a pipe bowl we can date!
Picture: the sections of clay pipes found