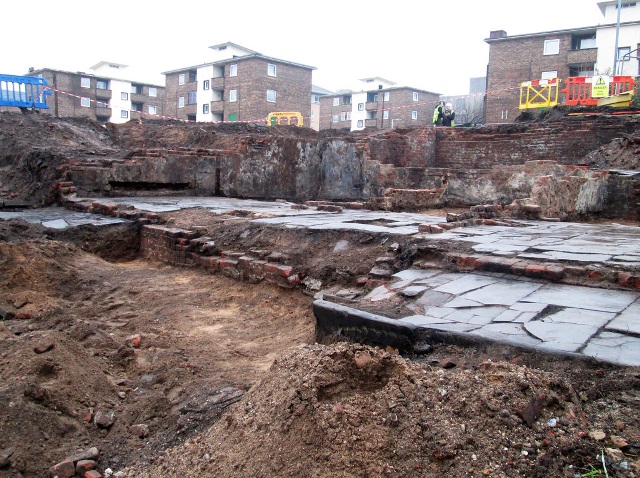 Covent Garden, Stockport
Greater Manchester Archaeology Day 2018
Saturday 24th November
Peel Hall, The Crescent, University of Salford
Up to four recently published Greater Manchester Past Revealed booklets, including Stayley Hall and Upper Brook Street Unitarian Chapel, will be available as free copies on the day.
Programme
MORNING SESSION
9.30am Registration and coffee
9.55am Introduction to the day: Dr Mike Nevell, Head of the Centre for Applied Archaeology, University of Salford
10.00am Welcome: Professor Sheila Pankhurst Dean, School of Environment & Life Sciences, University of Salford
10.05am The Brian Grimsditch Memorial Lecture: Three Castle surveys: Caernarvon, Lancaster and Newark Chris Wild (Salford Archaeology)
10.45am Unravelling the mystery of a ruin: the medieval grange at Castleshaw, Saddleworth, Oldham Norman Redhead (GM Archaeological Advisory Service)
11.15am Comfort Break
11.30am New Bailey Prison: Salford Archaeology's 2018 Excavations
Andrew Radford (Salford Archaeology)
12.00am Post Medieval Pottery in the North West: recent projects and a guide to identification
Sam Rowe (Salford Archaeology)
12.30pm The North West Regional Research Framework for the Historic Environment – final update including the new website
Mike Nevell and Dan Miles (Historic England)
1.00pm Lunch break
During lunch there will be an opportunity to view the Greater Manchester Historic Environment Record database (run by GMAAS) and exhibitions by CfAA and local archaeology societies, plus book stalls.

AFTERNOON SESSION
2.00pm Landgate Roman Road, Wigan
Patrick Maloney (Wigan Archaeology Society) and Mandy Burns (Salford Archaeology)
2.30pm Covent Garden, Middle Hillgate, Stockport: the archaeology of an early mill, workers' housing, burial ground and the world's largest Sunday School
Sarah Cattell and Kirsty Whittall (Salford Archaeology)
3.00pm Coffee and comfort break
3.30pm The archaeology of Angel Meadow: Oxford Archaeology's excavations during 2018 Richard Gregory (Oxford Archaeology North)
4.00pm From Stone to Iron - Medieval Monastic Magic in the Holcombe Valley Neil Coldrick (Holcombe Moor Heritage Group)
4.30pm Questions and closing remarks Chaired by Dr Michael Nevell
4.45pm Finish

Refreshments: Biscuits, tea, coffee, water and fruit juice will be provided.
It is recommended that you bring a packed lunch which can be eaten at the event venue. Alternatively, there are one or two eating places nearby.
Directions :Peel Hall, The Peel Building, University of Salford, The Crescent, Salford, M5 4WT
Peel Hall is situated on The Crescent (A6), Salford, the main road into Manchester, and is adjacent to the Salford Museum and Art Gallery. www.salford.ac.uk/about-us/travel/campus-map/map-low-res-2.pdf
Fee: £10.00
To book your place, please follow the link below or email Mags at This email address is being protected from spambots. You need JavaScript enabled to view it.
University of Salford
University of Salford Shop
https://shop.salford.ac.uk/product-catalogue/conferences-and-events/greater-manchester-archaeology-day/greater-manchester-archaeology-day-2018